The Hudson Yards Vessel is Now a Butt Plug - Plus a Few Dildos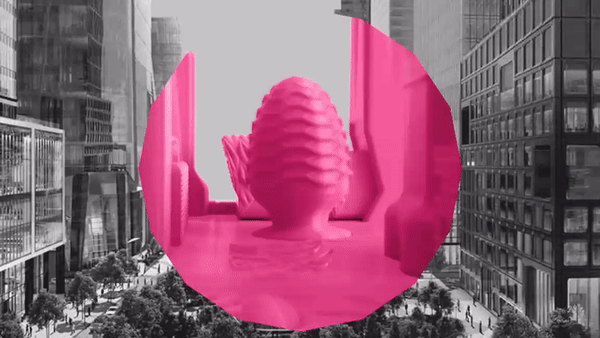 Images from Wolfgang & Hite
Art imitates life. Life is, more often than not, connected to sex in some way. Next, add a wicked sense of humor from design studio Wolfgang & Hite.
This is how the Hudson Yards sex toy collection was born.
Yes, the entire "28-acre (11-hectare)" site is made specifically to get you off.
Also known as XXX-HY, the team used a ratio of one inch to 100 feet (2.5 centimeters = 30.4 meters) and silicone to recreate this famous block of buildings that have come to represent several concepts or opinion on the huge wave of high-end building development...
"Humour as a way of critiquing the city and fusing high design with pop culture"
"Masturbation is a great metaphor for the latest wave of development in New York City."
"There's a lot to love in NYC's recent building boom, but the city and developers have been jerking each other off for decades, so naturally we wanted to join in the fun." (WG+H)
"To challenge what critics have claimed 'placeless' and 'mindless materialism"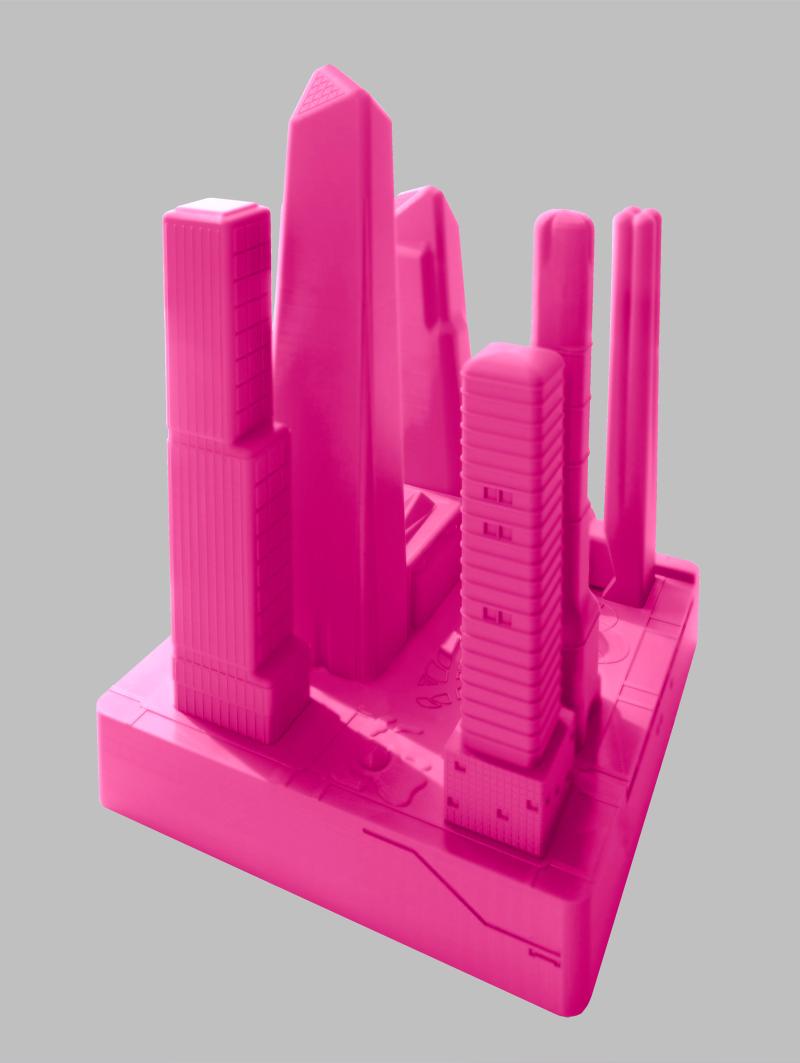 A lot of architecture can already be considered phallic – whether subconsciously or purposefully (true, even though taller buildings make for less space consumption, you can't deny there's often a "mine is bigger and better than yours" mentality). This is why the team took the landmarks and purposefully exaggerated their cues, as well as making them more abstract than exact replicas
FUN FACTS: One of their promo tag lines is "A luxury real estate dildo experience." Also, the idea was originally inspired by an architectural critic, Ada Louise Huxtable, who commented, "Skidmore, Owings and Merrill's most conspicuous contribution is a pair of skyscrapers that look, in profile, alarmingly like sex toys."
Sadly, the 87-year old woman didn't live to see her comment actually take form.
WHAT'S IN THE XXX-HY PACKAGE?
---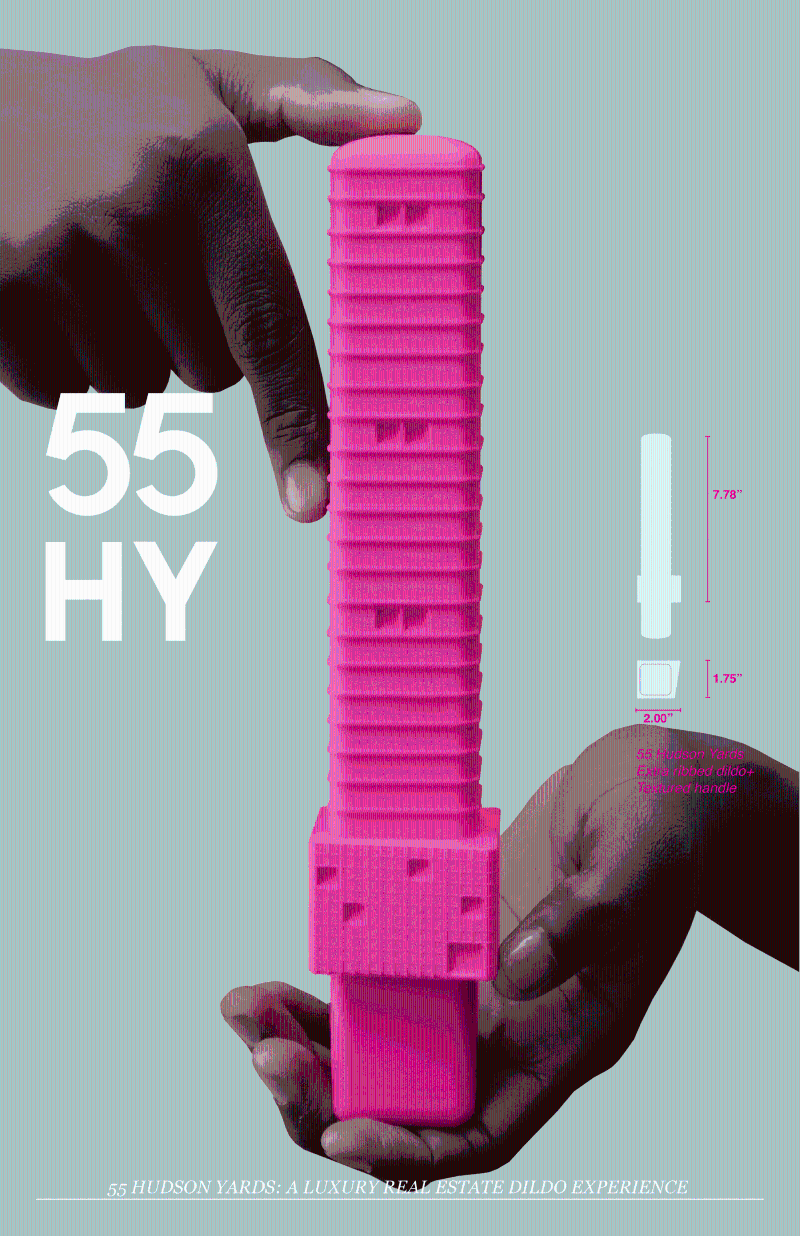 55 HUDSON YARDS – The 1,300,000-square-foot (120,000 m2) building, designed by Eugene Kohn and Kevin Roche, was originally meant as the world's first permanent healthcare marketplace and education center, but they withdrew from the deal. It's now an office building.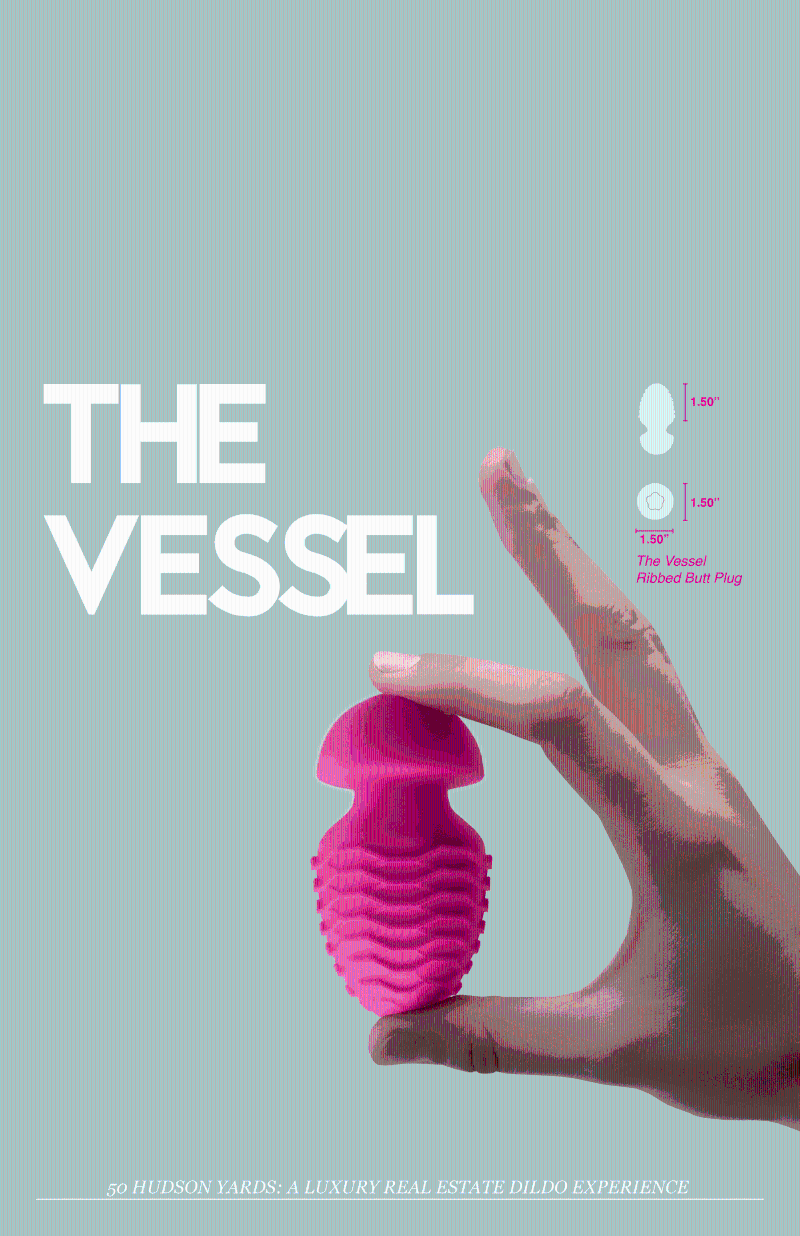 THE VESSEL (a.k.a The New York's Staircase) by Thomas Heatherwick is a 1.5-inch ribbed butt plug. On a personal note, it's certainly NOT a butt plug for beginners.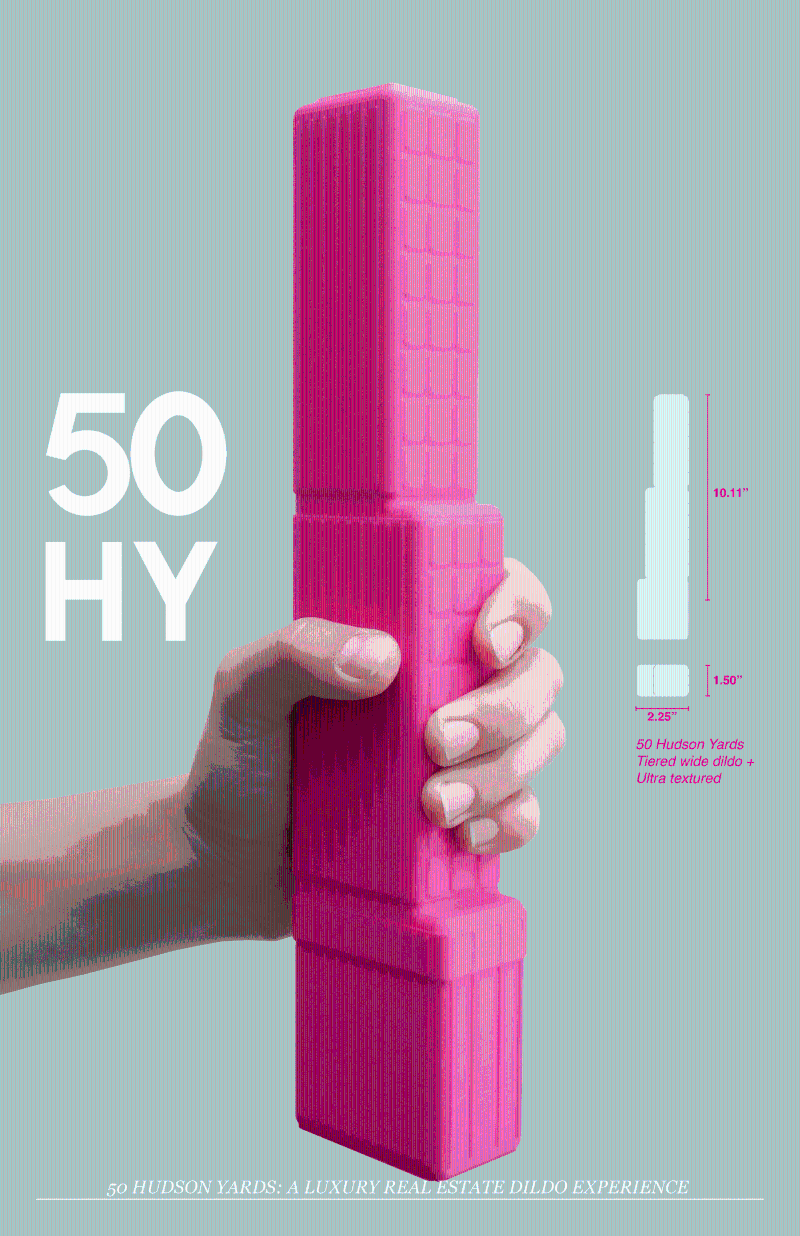 50 HUDSON YARDS – Standard office building that was financed mostly by Mitsui Fudosan (90 percent stake in the building) as well as several other banks.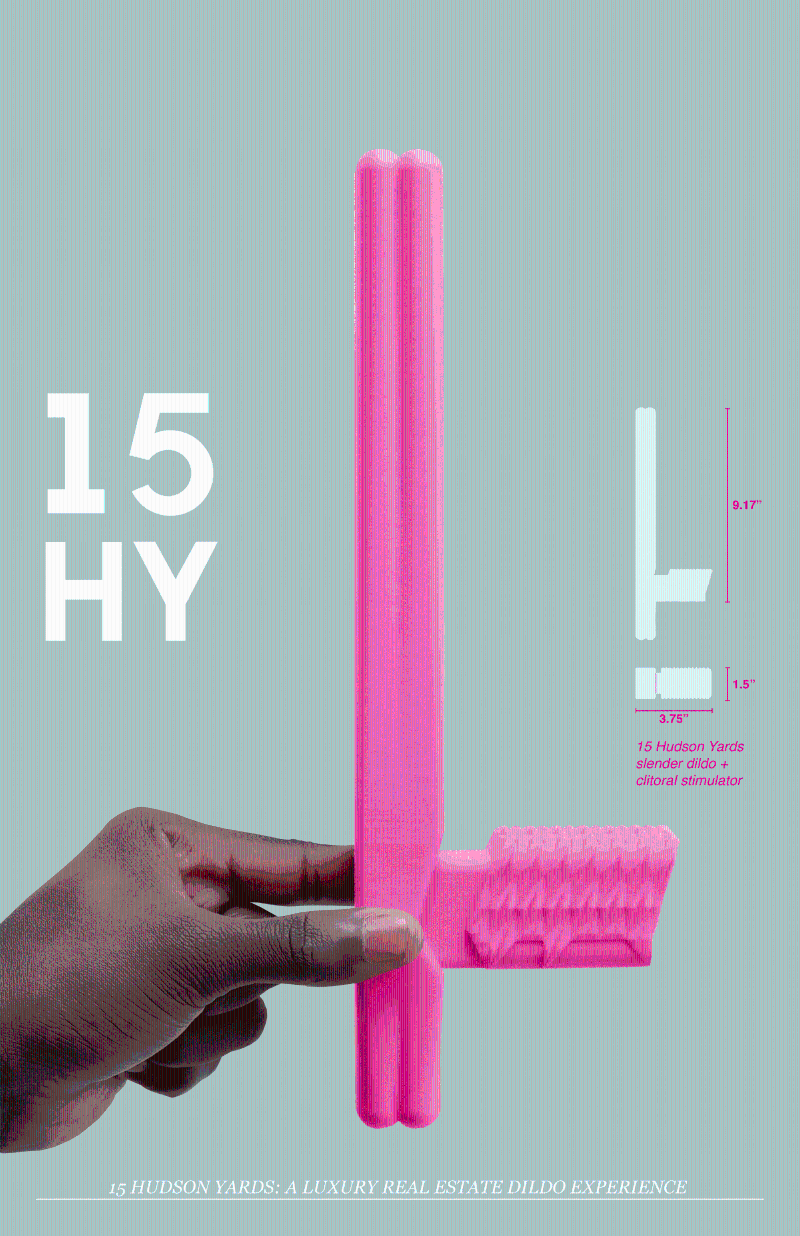 15 HUDSON YARDS – Designed by Diller Scofidio + Renfro, Lead Architect and Rockwell Group. It's designed as a high-end residential building with 285 units and an aquatic center. It's also nicknamed "The Corset". You can see a sales pitch/page here.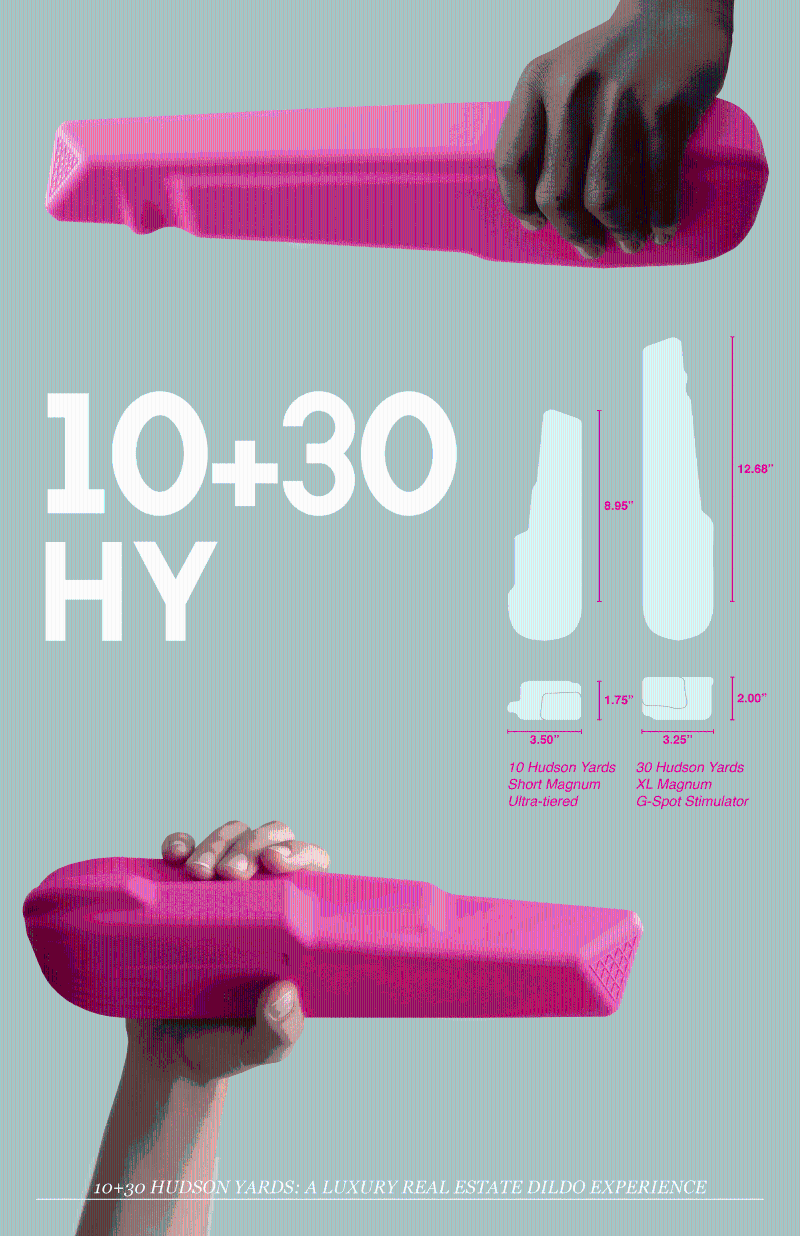 10+30 HUDSON YARDS – Building 30 contains the highest outdoor observation deck in the Western Hemisphere (as of this article) and serves as the headquarters for global media and entertainment company Warner Media, as well as its subsidiaries, HBO, CNN, and Warner Brothers. Building 10 is another office center.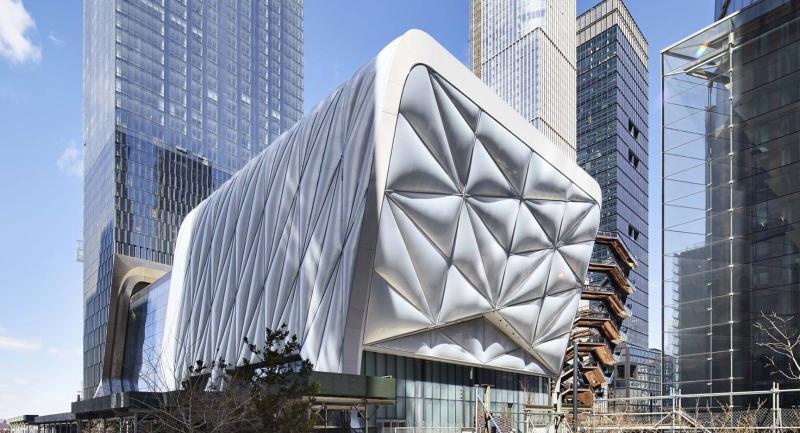 THE SHED – (a.k.a the Bloomberg Building) is a cultural building by Diller Scofidio & Renfro. It's designed as a clit stimulator.
The downside of it all?
It's more of a showpiece and is not actually available for sale … yet.
. . . . . . . . . . . . . . . . . . . . . . .
Would you try any of these toys, even a rectangle dildo? Share your thoughts and feelings in the comments.
Also, if you want more interesting articles, you might like these…
Have a toy-tastic day!
Robyn
EtiquetasHudson Yards Vessel