Anal hooks can be fun, but they're not for those just starting out. This simple, beginner-friendly guide will teach you everything you need to know, including…
How to buy one
How to prep for hook play
Different ways to use them
How to care for them
Safety suggestions
WHAT'S AN ANAL HOOK?
---
They are curved, metal rods with a ball attached to the short end and a loop on the other. They're used across many kinks, but especially for either training a submissive to hold a certain posture, anal stimulation, or dominance/humiliation.
Although there are new products coming out that have embraced silicone or other materials, the classic is stainless steel.
HOW TO BUY YOUR FIRST HOOK
---
#1 BUDGET – This is NOT a toy to go cheap on – you don't have to break the bank, but the $5.99 plastic version is a bad idea. The point is to have something sturdy and easily-to-clean.
#2 THE INSERTED PART – There are a few different kinds of "ends" for your hook. The classic one is a regular bulb, but there are also butt plug shapes as well as flat ends. I don't recommend the flat ends because they have a higher risk of causing damage.
Some ends are welded onto the rod and part of the structure while others can be unscrewed and interchanged with smaller or larger bulbs. There's a debate which is safer or cleaner. Personally, I like not having to worry if the bulb will accidentally come off and get lost up someone's bum.
#3 THE CURVE – Different models will have slightly different degrees of "curve". There's no real right or wrong here. It's just a matter of using common sense towards your own anal preferences.
#4 THE MATERIAL – You'll want to get stainless steel, not something that just coated in shiny metal – which is where the price difference comes into play. Coated ones will eventually rust. Pure stainless steel ones are very easy to sanitize.
BEFORE YOU PLAY
---
Don't jump into your sexy antics just yet. Anal hooks are serious toys (they can seriously hurt your partner) and they need a level of preparation before whipping out the lube.
First, get your partner to go to the bathroom beforehand and clean up after. If you want more intense anal play, they should probably douche 3-4 hours before the session to make sure everything's cleared out.
Second, get aroused. The anus is like the vagina, in that things work much better if the receiver is aroused. Any stress will make them clench, and make insertion painful. And it doesn't have to be anal stimulation. You can watch porn, make out, masturbate, do other kinds of kinky things, etc.
Third, use all the lube in the world. People seem to underestimate how much lube you really should use for anal play of any kind. Not only will it make things more comfortable, it will help avoid injuries. And, since it's a metal toy, you'll be able to use silicone or oil-based anal products (assuming you won't be using silicone toys afterward).
NOTE: Yes, some like to go in "dry" because they (and their partner) like pain, but that's a personal choice based on past experiences. It's not something I recommend.
Last, take your time! If you've never used one before, take your time. Insert the bulb as slowly and let your partner get used to the sensation. Also, (carefully) experiment with different depths, tilts, pulls, and pressures until you find whatever sweet spots make them smile, moan, or whimper.
HOW TO PLAY WITH HOOKS
---
It looks like a straightforward toy, but there's a lot you can do with it.
Tie a line from the loop to the person's hair
Tie a line from the loop to a Shibari forms
Tie a line from the loop to an object
Tie it into a harness under their day clothes
Use it to make your partner assume a pleasing position
Make it warm or cool and embrace temperature play
Make them perform actions or chores while wearing one
Make it vibrate by holding a magic wand against the rod
Insert it in the vagina and use it like a g-spot toy
Want a wand to make your hook vibrate? Try this one…
DOMI by Lovense – Cordless, Rechargeable, and POWERFUL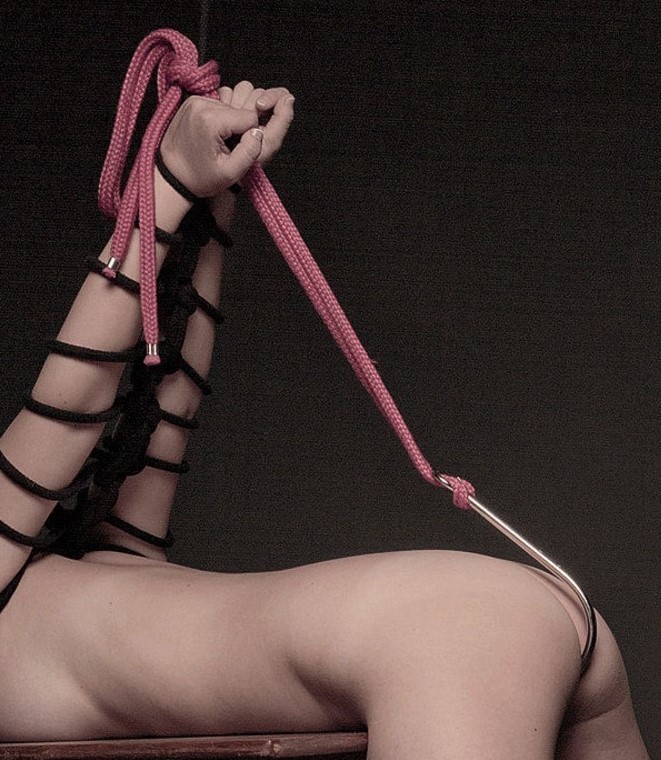 The idea is to either cause pleasure (from anal stimulation) or to put the wearer in some sort of compromising, uncomfortable position or situation.
For example, making them wear one under their day clothes and having them go outside can be exhilarating and/or humiliating.
Attaching it to their hair makes them decide between pain on their scalp or discomfort in their bum. Integrating it with other bondage can make them feel helpless.
HOW TO CLEAN & CARE FOR YOUR HOOKS
---
Always wash your sex toy before and after each use.
Wash with soap and hot water, rinse thoroughly and dry.
Use sex toy cleaner if you're in a party and need to clean it.
Unscrew the end and clean the holes well.
Don't drop it (possible dents and rough spots)
Put a condom over the end if you are worried about sharing.
Use a 10% bleach solution for sterilization.
Run through a hot cycle on your dishwasher
Clean with rubbing alcohol
BEING SAFE WITH YOUR HOOKS
---
Make sure the ends won't come unscrewed during use.
Have safety scissors if you plan on using rope.
NEVER use a hook as a suspension point in Shibari.
Don't make any knots on the hook too tight.
If you feel pain, STOP.
Always have safeword (yes, it can just be "stop" if you want)
Don't buy flat end hooks – they can tear the rectum
Avoid chrome-plated hooks
Don't buy a ball larger than your comfort zone
Want more useful and interesting articles? Check out…
Do you have any other suggestions for hook play or safety? Please share in the comments!