Simple Guide: Shibari for Beginners – Things You Might Knot Know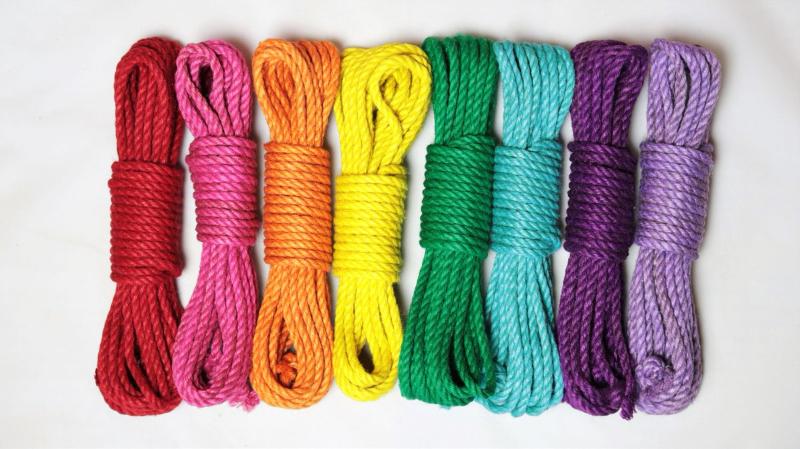 I started my Shibari journey a couple of years ago but only got into it seriously in the past year. Even after all the seminars, workshops, and practice at the club, I would still consider myself only an upper-beginner.
This is important to keep in mind.
I'm not here to teach you HOW to do it. I'm here to share my experiences and tips that might not always be obvious or spoken when you start out – some things that are vital if you are curious about getting into the practice.
LEARN THE BASICS OF SAFETY
---
If your first class doesn't include a detailed lecture or video (or whatever) on safety, that's not a good sign. Rope play is considered EDGE PLAY – meaning it can be dangerous if not handled responsibly and with adequate education.
Safety includes things like nerve damage, types of rope, rope wrapping, cleaning/care, anatomy, aftercare, circulation, and vital communication before and after tying.
FIND A GROUP
---
Joining a rope club is great because you'll be surrounded by all sorts of people from different levels – including people with lots of experience. Go, sit and watch for your first time. Or, if they offer beginner classes, join one. You'll be surprised how much you can learn in 1-2 hours.
FIND A MENTOR
---
It's even better if you can find someone to take you under their wing and watch your progress carefully. They are hard to find (usually busy with job, life, etc.). But if you can, hang on to them and cherish them as your most precious resource.
That being said, it's also important to watch other people. Look at different styles, feelings, connections. You can learn so much by simply observing – after all, the traditional mindset of Shibari is that it takes THREE participants (the one who ties, the model, and the one who observes and appreciates).
SIDE NOTE: Just because someone ties doesn't mean they are good or safe at it. Take your time to get to know the rope community and find who is good/safe – trust me, news travels fast.
IT'S NOT JUST ABOUT KNOTS
---
Yes, you'll be learning "forms" like harnesses and single column ties etc. However, it's not just about learning which knot is good in which situation. There's "tension" (how tight the ropes are on the body). Knots need to be tight and "compact". Ropes that are even will hurt less than ropes that are twisted or crossed over.
It might all sound easy, but from personal experience, it takes time and practice to get these down pat – so you or your model is safe and comfortable (yes, you can have sadistic tying, but that doesn't mean you ignore safety).
START SMALL
---
Don't go out and buy a tone of supplies right off the bat. You can get by with 5 "lengths" of "treated" rope and do plenty of fun stuff while you're leaning. It's only really when you get into suspension (if you want to) that you need to invest in more items.
FLOOR BEFORE SUSPENSION
---
Floor work means your model is always on the ground and not tied to any suspension points.
Don't think that "getting into suspension" is the epitome of the craft (it is beautiful yes, but that's a long-term end goal). You can do MANY sexy, erotic, painful, beautiful things just with someone on the floor. You'll also be using this time to practice tension, compacting, and knots that will be useful for advanced stuff.
USE VIDEOS … WITH CARE
---
I use videos a lot – but mostly because my memory is crap. By all means, use them to help you remember the form and structure (how to put the ropes on the model), but you WILL need a living body eventually to give you feedback. I can't tell you how many times I've used my chair as a substitute, but after a while, it became frustrating because I couldn't move forward.
FIND A ROPE PARTNER
---
Tying new people is inevitable, but if you can find someone who will spend time with you because they also want to learn, that's great! New people require "introduction communications", but when you tie someone often you can get past the basics and go deeper. You'll still have to communicate, but you'll be building your knowledge base of them instead of starting from scratch each time.
USEFUL – Did you know that most of your power comes from your core/abdominal muscles, not the arms. Also, breathing in compromising positions should come from the stomach, not the upper section. And, even riggers get tired. It's a very energy consuming interaction.
TRY BOTH SIDES
---
You may not like the idea of being tied (I'm totally a rope top). BUT, in my (and many people's) opinion, a good rigger should also know what it's like to be tied up – to know how the pressure, pain, and pleasure feels.
Everyone thinks the rope tops deserve the praise, but rope bottoms deserve tremendous amounts of respect and admiration.
I've been doing self-suspension for only a month now (at the time of this article) and, wow, I'm learning so much. I can take that experience and use it on my partners. This way, we both have wonderful experiences.
EXAMPLE – you might think that having something off-center is no big deal, but when you're suspended by it, you can FEEL the imbalance, and that discomfort of weight distribution (even by a little) can make or break the experience. Also, I learned how important equal tension is across all my ropes because I made one too tight while the other was too loose – so when I pulled myself up, I had ONE point digging into my body instead of two... and wow did it hurt.
PRACTICE, PRACTICE, PRACTICE
---
Shibari is/can be a life-long journey. You never stop learning…ever. Even if you're a "master" and have tied hundreds of thousands of times, there is always something more to learn – another style, form, method of performance, the interaction between model and rigger.
You'll always, and always should be, practicing what you've learned. Or, like anything, we start to forget and get rusty.
. . . . . . . . . . . . . . . . . . . . .
Any other beginner Shibari experience or advice you want to add? Share in the comments!
Also, if you want more useful articles, you might like these…
Have a knoty day!
Robyn
EtiquetasShibari For Beginners