What Is an Enema Kit? How Does It Relate to Sex or BDSM?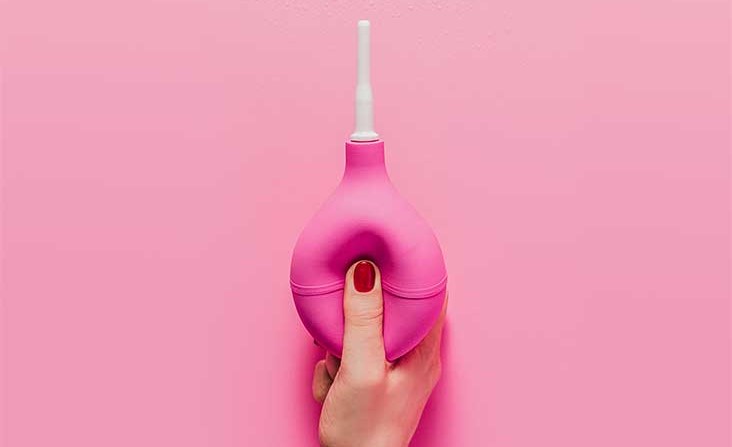 WHAT IS AN ENEMA KIT?
---
Considering what an enema is, you might think of a "kit" being something complicated, when, in fact, the general contents is very simple/minimal. There are two types of kits…
BAG – The water is held in a sealable bag – something that looks close to a hot water bottle.
BUCKET – An open-top container – comes in various sizes and with measurements.
BULB – Also called a syringe or irrigation bulb – often used for constipation.
There are pros and cons with each one – Bags are easier to maneuver and won't spill, but they are harder to keep sanitized. Buckets are simple to clean but they can spill if you're not careful. Bulbs are cheaper but they hold less liquid and you might need to use it several times to get a proper cleaning.
Along with a bag or bucket, you should also get a hose with a tapered end that you can easily insert and some sort of hook or attachment so you can fix it above your body and let gravity do the work.
PRIMARY USAGE
---
These kits are often used to help relieve constipation, prep for medical procedures like a colonoscopy, prep for cancer screenings, administer medications, etc.
HOW DOES IT RELATE TO SEX?
---
The most common usage is to have a clean anal track before anal play. It doesn't matter if it's your first time, getting into beginner anal toys, or using large adult products … having a clean track is up to you. Some people don't care if there is a bit of "residue".
HOW DOES IT RELATE TO BDSM?
---
Some kinksters might have a medical or anal fetish. Enemas are an easy way to introduce a medical aspect as well as control and possibly (consensual) humiliation.
HOW DO YOU BUY AND STORE ONE?
---
There are a ton of products out there. Make sure you get one that is doctor recommended or has lots of positive user ratings. A bag might look like any other bag, but there might be something you can't see in the product pictures – like hard-to-clean places or unsafe body-materials.
Online is common but you can also get them at a pharmacy.
As for storing them, make you sure sanitize (not just clean) them thoroughly after each use and dry them out as much as possible. Store them away in a cool and dry place. Extra points if the kit comes with its own storage pouch.
. . . . . . . . . . . . . . . . . . . .
What kits have you tried, that are sure winners? Share in the comments (no links please).
Also, if you want more useful articles, you might like these…
Have a kinky day!
Robyn
Have a great day!
Robyn
EtiquetasEnema Kit